Sharp 720L 2 Door Fridge SJP80MFMS
Product Code:
SHP-SJP80MFMS
Product Description
Product Details Of Sharp 720L 2 Door Fridge SJP80MFMS
1 Year Warranty General Part
12 Years Warranty Compressor
720 Litres
External Touch Control Panel
Hybrid Cooling System
Door Alarm
2-Way Fresh Room
In-Door Ice Maker
Mega Freezer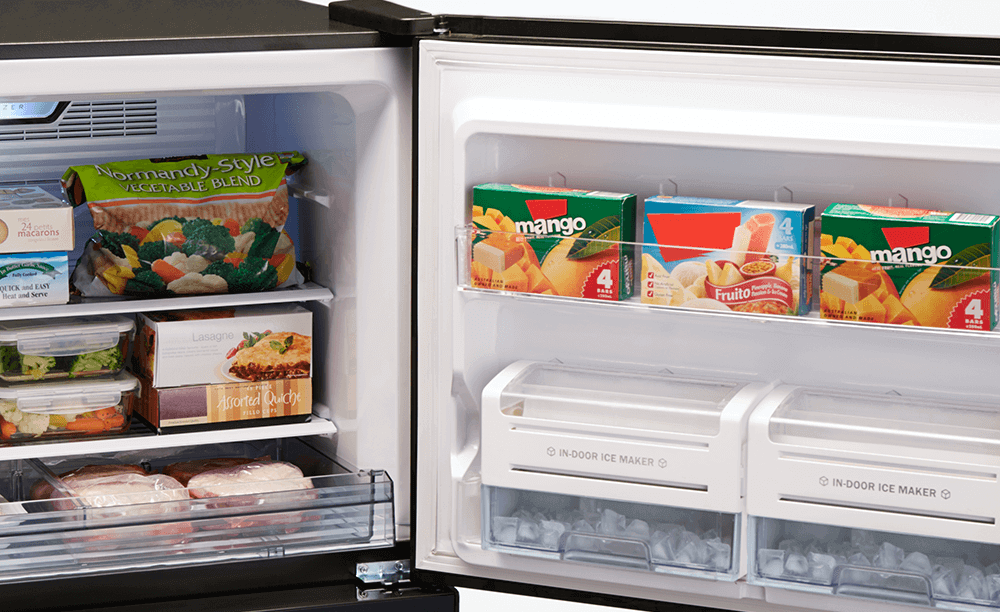 IN-DOOR ICE MAKER
The In-Door Ice Maker is located on the door pocket, allowing users to fully utilize space in the freezer compartment.
SJP88MFGM/GK(720L), SJP80MFMK/MS (720L) models only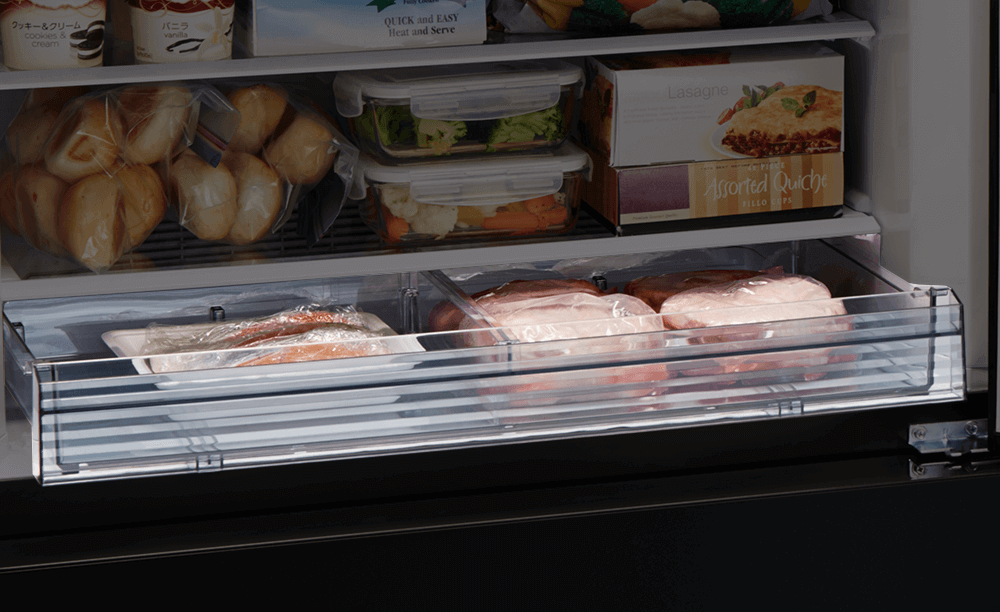 FREEZER CASE
Store selected food items in this dedicated freezer compartment. The movable divider offers even more convenience for organized food separation.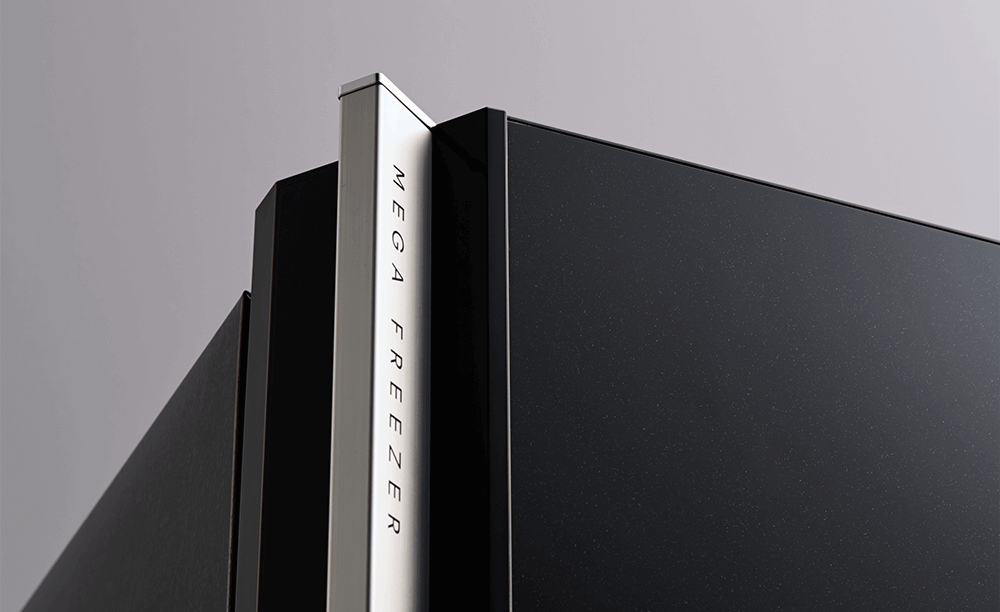 SLEEK DESIGN
A stunning, sleek design refrigerator made with smooth glass to reflect your exclusive lifestyle.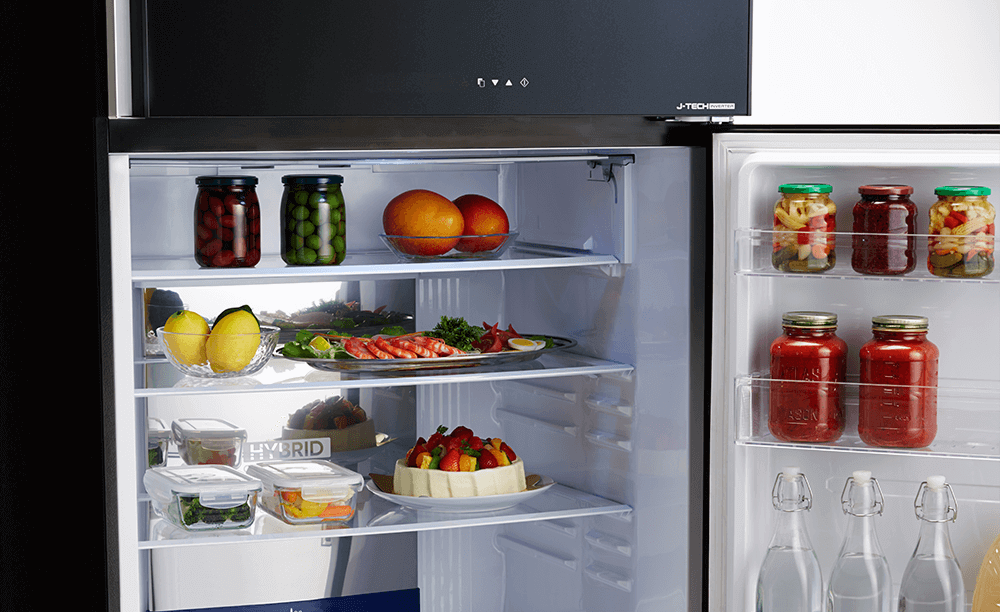 2 WAY FRESH ROOM
This dual-purpose compartment is designed to help you organize your fridge easily. Use it as an extra shelf, or close the flap to switch in to a chiller room.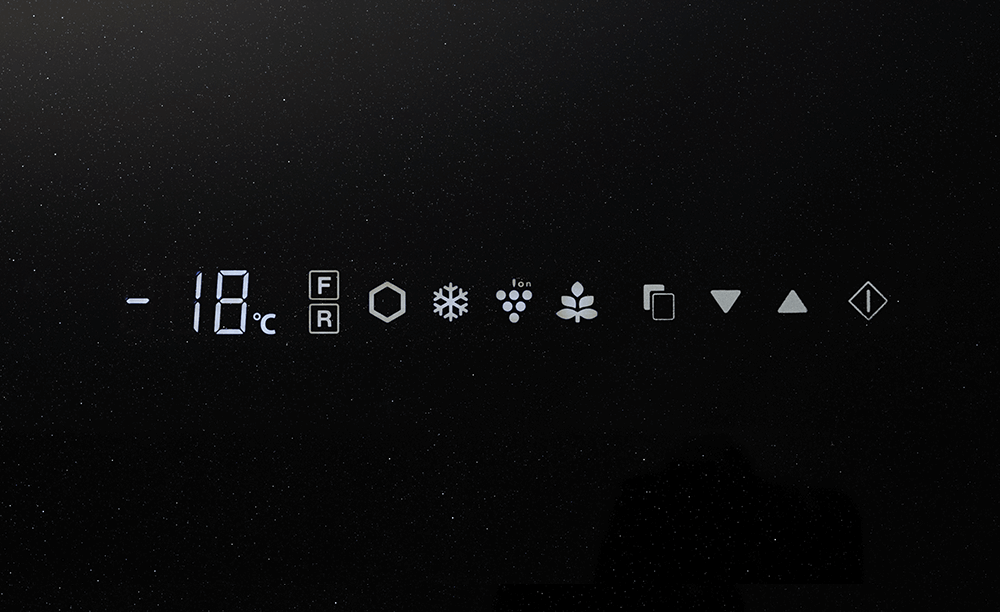 TOUCH CONTROL PANEL
The sophisticated Touch Control Panel lets you control everything about your refrigerator without the need to open the doors.
Capacity (-)
Gross Capacity (L)
720
Net Capacity (L) - Total
600
Net Capacity (L) - Refrigerator
422
Net Capacity (L) - Freezer
178
Net Capacity (L) -Flexi Room
-
General Features (-)
J - Tech Inverter Technology
Yes
Plasmacluster Ion Technology
Yes
ActiFresh Hybrid Cooling Technology
-
Hybrid Cooling Technology
Yes
Auto Ice Maker
-
Temperature Control
External
AG CU/ Ag+ Nano Deodoriser
AG CU
LED Control Panel
-
Extra Cool
Yes
Express Freezing
Yes
Child Lock
-
Door Alarm
Yes
Eco Mode
-
Refrigerant
R - 600a
Karakuri Water Dispenser
-
Flexi Room - Temperature Setting
-
Flexi Room - Mode Setting
-
Auto Crystal Clear Ice Cube Maker
-
External Touch Control Panel (LED)
-
Refrigerator (-)
Egg Tray / Pocket
Yes
Utility Box / Pocket
2
Bottle Pocket
2
Smooth Slide Out Shelf
-
Shelves - Tempered Glass
2
Shelves - Plastic
-
Vegetable Shelf
-
Vegetable & Fruit Case
1
2 - Way Fresh Room
Yes
Fresh Case
-
Lighting - LED
Yes
Lighting - Bulb
-
Door Pocket
1
Bottle Pocket - Fruit & Vegetable Crisper
-
Bottle Pocket - Fresh Case
-
Water Tank - AG+ Coasted Water Tank (1.8L) For Auto Ice Making
-
Water Tank - AG+ Coasted Water Tank (4L) For Auto Ice Making
-
Refrigerator Shelf - Tempered Glass Shelf
-
Refrigerator Shelf - 9 - Way Flexible Shelf
-
Refrigerator Shelf - Vegetable Case
-
Freezer (-)
Ice Storage Box
-
Twist Ice Making Tray
-
Ice Tray
-
Mega Freezer
Yes
Ice Maker & Box
In - Door Ice Maker
Freezer Organizer
Yes
Door Pocket
1
Shelves
1
Drawer
-
Freezer Case
-
Freezer Shelf
-
Ice Storage Box - Large
-
Others (-)
Door
2
Cooling System
Direct Fan
Dimension (mm) - W x H x D
865 x 1870 x 740
Handle
Recessed
Colours Available - Glass
-
Colours Available - Metal
S- Silver
DELIVERY
After you placed the order in ONKING eGo website and confirmed the payment, our eGo Team officers will process it on the next working day and arrange your delivery. However, due to stock availability in different Stores, ONKING may take up to another 1 to 2 working days to make the item ready for your Store-Collection or ready for shipping out from dedicated location. For smaller items that selected for delivery and you can receive your purchase within 1 to 5 working days.
TWICE INSPECTION
Our warehouse will perform due diligence inspection twice to ensure the quality of our product, including the parts or accessories user manual and warranty card are good in condition before we delivered to our customer.
Standard Deliveries for Smaller Items
Delivery of your purchase falls into 2 schemes:
ONKING Delivery (Klang Valley areas): Items in larger size and weight.
Standard Delivery: Smaller items will be delivered via 3rd party courier service.
Pick up from Store Terms
This service ONLY AVAILABLE IN ONKING STORES (KLANG VALLEY)
If you are within Klang Valley, you may choose to pick up from our stores.
Self-collection orders are only ready for own collection when orders are processed.
We will inform to the customer through using E-Mail/SMS/WhatsApp when your self-collection order is ready.
We could only do online order processing during Monday to Friday, Except PUBLIC HOLIDAY.
click to view -> ONKING BRANCHES LOCATION
We have committed ourselves to deliver your parcel to your doorstep within the promised timeframe; however, we do seek your understanding if delays happen as unpredictable factors such as weathers, high order demands and road traffics can cause unwanted delays.