Samsung 647L INV Side By Side Fridge RS62R5031SL
Product Code:
SAM-RS62R5031SL
Product Description
Product Details Of Samsung 647L INV Side By Side Fridge RS62R5031SL
1 Year Warranty General Part
10 Years Warranty Compressor
SpaceMax™ Technology
All-around Cooling
Digital Inverter Technology
Sleek & Seamless Design
Metal Cooling
Power Cool / Power Freeze
Deodorizing Filter
Vege Box
More fresh space inside, More seamless style outside
SpaceMax™ Technology
Store more food with a very spacious 647 liter* interior. Its unique SpaceMax™ technology enables the walls to be much thinner as it uses a minimal amount of high-efficiency insulation. So it creates more storage space without increasing the external dimensions or compromising energy efficiency.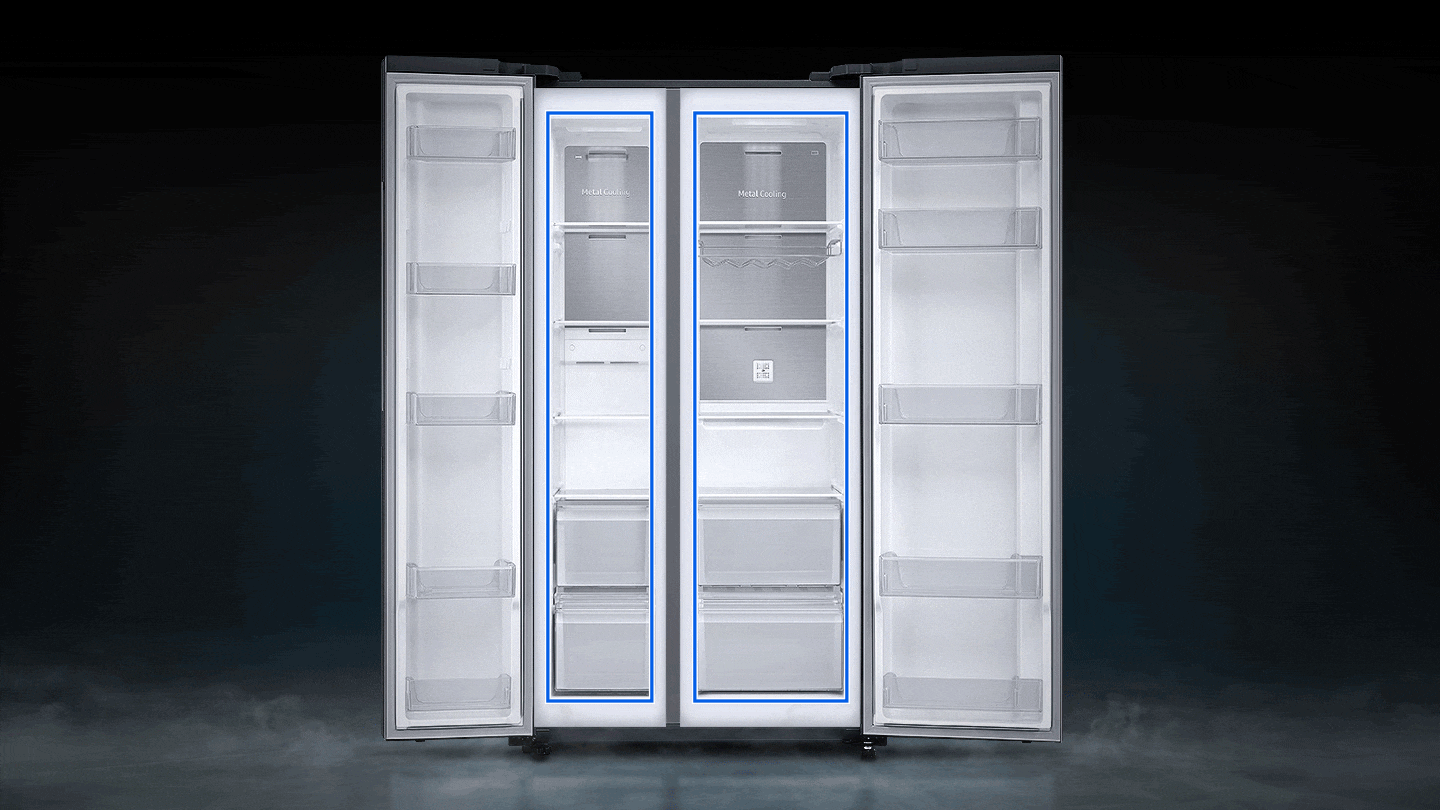 Always fresh food, wherever it is
All-around Cooling
Make sure that all your food is properly cooled – wherever it is in the fridge. An All-around Cooling system continually checks the temperature and blows out cold air. It cools the fridge evenly from corner to corner, so every item of food stays fresher for longer.
Last longer with up to 50% energy saving
Digital Inverter
Samsung Digital Inverter Compressor lasts your food longer with up to 50% energy savings, and it also can keep working for 21 years continuously*. It automatically adjusts its speed in response to cooling demand, so it reduces wear and tear. And its durability is guaranteed for 10 years**.
Odor eliminator maintains natural flavor
Deodorizing Filter
Keep the inside of the refrigerator deodorized and preserve the original flavor and aroma of food for longer. The built-in natural fiber Deodorizing Filter eliminates strong smells as the air is continually passed through activated carbon filters. So here's no need for other odor fighting solutions.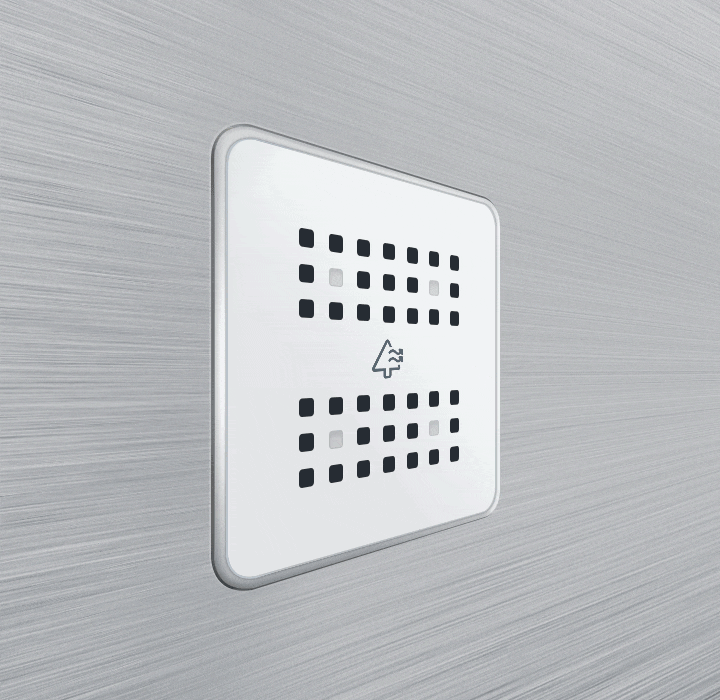 Easily store more vegetables & fruit
Vege Box
A large capacity Vege Box provides a convenient space to store a large amount of fresh vegetables and fruit. And because it's so big it's much easier to find everything, as they're all in one place and easy to get to, so you can enjoy them more often without taking up valuable kitchen space.
Capacity

Gross Total (Liter)

680 ℓ

Gross for Freezer(Liter)

260 ℓ

Gross for Fridge (Liter)

420 ℓ

Net Total (Liter)

647 ℓ

Net for Freezer (Liter)

229 ℓ

Net for Fridge (Liter)

418 ℓ

Physical specification

Net Width (mm)

912 mm

Net Case Height with Hinge (mm)

1780 mm

Net Case Height without Hinge (mm)

1744 mm

Net Depth with Door Handle (mm)

716 mm

Net Depth without Door Handle (mm)

716 mm

Net Depth without Door (mm)

610 mm

Packing Width (mm)

974 mm

Packing Height (mm)

1909 mm

Packing Depth (mm)

776 mm

Net Weight (kg)

101 kg

Packing Weight (kg)

108 kg

20/40/40H (Container)

18/36/36

Cooling Feature

Power Cool Function

Yes

Power Freeze Function

Yes

Cooling Type

Mono Cooling

Refrigerator Feature

Number of Shelf (Total)

4 EA

Wine Rack

No

Number of Door Pocket

5 EA

Egg Container (Egg Tray)

Yes

Interior LED Light

Yes

Number of Vegetable & Fruit Drawer

2 EA

Freezer Feature

Number of Shelf (Total)

4 EA

Number of Door Pocket

5 EA

Icemaker

Manual Twist

Interior LED Light

Yes

Number of Drawer

2 EA

General Feature

Door Alarm

Yes

Refrigerant

R600a

Cooling Cover

Metal Cooling Duct

Compressor

Digital Inverter Compressor

Exterior Feature

Display Type

Internal(Ice Blue)

Door Handle

Recess

Colour

Ez Clean Steel

Performance

Noise Level

40 dBA

Climate Class

SN-T

Vacation Mode

Yes
DELIVERY
After you placed the order in ONKING eGo website and confirmed the payment, our eGo Team officers will process it on the next working day and arrange your delivery. However, due to stock availability in different Stores, ONKING may take up to another 1 to 2 working days to make the item ready for your Store-Collection or ready for shipping out from dedicated location. For smaller items that selected for delivery and you can receive your purchase within 1 to 5 working days.
TWICE INSPECTION
Our warehouse will perform due diligence inspection twice to ensure the quality of our product, including the parts or accessories user manual and warranty card are good in condition before we delivered to our customer.
Standard Deliveries for Smaller Items
Delivery of your purchase falls into 2 schemes:
ONKING Delivery (Klang Valley areas): Items in larger size and weight.
Standard Delivery: Smaller items will be delivered via 3rd party courier service.
Pick up from Store Terms
This service ONLY AVAILABLE IN ONKING STORES (KLANG VALLEY)
If you are within Klang Valley, you may choose to pick up from our stores.
Self-collection orders are only ready for own collection when orders are processed.
We will inform to the customer through using E-Mail/SMS/WhatsApp when your self-collection order is ready.
We could only do online order processing during Monday to Friday, Except PUBLIC HOLIDAY.
click to view -> ONKING BRANCHES LOCATION
We have committed ourselves to deliver your parcel to your doorstep within the promised timeframe; however, we do seek your understanding if delays happen as unpredictable factors such as weathers, high order demands and road traffics can cause unwanted delays.