Panasonic Bread Maker SDP104
Product Description
Product Details Of Panasonic Bread Maker SDP104
1 Year Warranty
Auto yeast dispenser
Temperature sensor
Ingredient dispenser
13 preset programme
Timer function
Temperature Sensor
Panasonic's bread baking programs adjust each process according to the ambient temperature. Total baking time of each program stays the same regardless of the temperature conditions.
Automatic Ingredients Dispenser
Yeast Dispenser drops the yeast automatically in optimum timing, just like a skilled baker. Raisin Nut Dispenser dispenses chopped dried fruits, raisins, nuts and cereals etc. It ensures even distribution of added ingredients through the loaf.
13-hour Digital Timer
It features a preset digital timer, which can be set up to automatically turn on the machine up to 13 hours, so you can enjoy freshly baked, fluffy bread every morning.
Crust Control
The crust pad lets you select the crust colour light and medium.
10-minute Power Interruption Protection
If there is a power failure during your bread making, the machine will retain its memory for up to 10 minutes and continue when the power supply returns.
13 Menus
8 bread cycles - bread, rapid, soft french, whole wheat, pineapple bread, rice bread, rice flour bread
3 dough cycles - bread dough, pizza dough and dumpling skin
2 snack cycle - chocolate and cake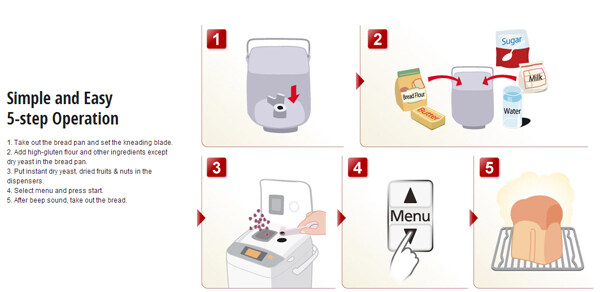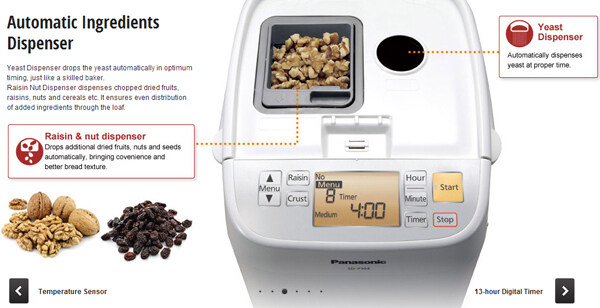 Let start with the bread maker demonstration ..
DELIVERY
After you placed the order in ONKING eGo website and confirmed the payment, our eGo Team officers will process it on the next working day and arrange your delivery. However, due to stock availability in different Stores, ONKING may take up to another 1 to 2 working days to make the item ready for your Store-Collection or ready for shipping out from dedicated location. For smaller items that selected for delivery and you can receive your purchase within 1 to 5 working days.
TWICE INSPECTION
Our warehouse will perform due diligence inspection twice to ensure the quality of our product, including the parts or accessories user manual and warranty card are good in condition before we delivered to our customer.
Standard Deliveries for Smaller Items
Delivery of your purchase falls into 2 schemes:
ONKING Delivery (Klang Valley areas): Items in larger size and weight.
Standard Delivery: Smaller items will be delivered via 3rd party courier service.
Pick up from Store Terms
This service ONLY AVAILABLE IN ONKING STORES (KLANG VALLEY)
If you are within Klang Valley, you may choose to pick up from our stores.
Self-collection orders are only ready for own collection when orders are processed.
We will inform to the customer through using E-Mail/SMS/WhatsApp when your self-collection order is ready.
We could only do online order processing during Monday to Friday, Except PUBLIC HOLIDAY.
click to view -> ONKING BRANCHES LOCATION
We have committed ourselves to deliver your parcel to your doorstep within the promised timeframe; however, we do seek your understanding if delays happen as unpredictable factors such as weathers, high order demands and road traffics can cause unwanted delays.